Rachel Elliff is the lead teacher in the Puppy and Kitten class for the fifth year. She and her husband have three daughters (two of which attended St. Andrew's and were in the Puppy class!) She received a degree in Music Education from James Madison University, and taught music in the public schools for five years before becoming a stay-at-home mom. Rachel was a substitute teacher at St. Andrew's for a year before her new position as lead teacher. Rachel is the leader for two Girl Scout troops and is involved in many activities at her church. She enjoys reading, baking, and spending time outdoors.
Robin Byers is "thrilled to be returning to St. Andrew's Preschool for my fifth year" as an assistant in the Puppy and Kitten class. Robin earned a B.S. in Sociology from Virginia Tech and taught as an instructional assistant in Fairfax County kindergarten and special education preschool classrooms before becoming a teacher here at St. Andrew's. Robin has lived in Athens, Greece and Malta, stemming from State Department assignments, and she and her husband have two sons. Robin enjoys playing with her two cats and making scrapbooks.

Karen Capets is the lead teacher of the Fish and Frogs classes and is in her 11th year at St. Andrew's. A native of Pittsburgh, PA, she has lived in Northern Virginia for most of the past twenty years. Karen received a B.S. in Special Education from Indiana University of Pennsylvania and is a huge Pittsburgh Steelers and Penguins fan! She and her husband have three children. Karen taught for two years for FCPS in Special Education. "I really enjoy teaching preschool and all the fun things we do at St. Andrew's. I am looking forward to a fantastic new school year and getting to know all of our new families and catching up with returning families!" In her free time, you can find Karen reading and exercising.
Dianne Sz

ipsz

ky
, a native of Ohio, begins her sixth year as the assistant in the Fish and Frogs classroom, and both coordinates and leads the preschool chapel on Tuesday and Friday mornings. Chapel is based on age appropriate Godly Play stories and Young Children at Worship stories. In a life prior to teaching, Diane received both a BE and ME in Engineering from Stevens Institute of Technology and worked as an engineer. Her family has lived in the Burke area after several expat assignments including Yokohama, Japan, the greater Toronto area, and Singapore. She and her husband are parents to three young women, including two alumni of the preschool. Dianne is also a former preschool board member.  She enjoys cooking, reading, and exploring Northern Virginia parks.

Tashia MacArthur begins her fifth year at St. Andrew's. A native of San Jose, California she received a Bachelor of Science from Brigham Young University. She and her husband moved to Virginia in 1997 for his job with the Smithsonian. They have three children. When her son was preschool age, Tashia was involved in a co-op preschool with a few friends, where she took a turn teaching for a week at a time every 5 weeks in her home. She is active in her church and with her kid's school activities. She loves to read, travel, and take hikes with her family.
Kris Kockler
 grew up in western NY, traveled around with her husband in the US Air Force and settled in Burke five years ago. This is her third year in the Penguin and Polar Bear Class.  She has a master's degree in Instructional Leadership and Academic Curriculum from the University of Oklahoma.  She  and her husband have 3 sons, the youngest is an alumni of the preschool. She worked in Mortgage Banking and substitute taught before becoming a teacher here at St. Andrews.  She loves watching the Buffalo Bills and Buffalo Sabres. Her hobbies are reading and working out. I am looking forward to having a fun and successful year with the Penguins and Polar Bears.

Kelly Nyman begins her eighth year at the preschool. A native of Stony Brook, New York, Kelly has lived in the DC area since 1998. A graduate of Washington University in St. Louis, Kelly moved to Arlington right out of college and started working in event planning and marketing. She returned to school, earning a master's in education from George Mason University. While teaching at St. Andrew's, Kelly became certified in the Handwriting Without Tears program. She and her husband are the parents of two children – both alumni of the preschool. "I love teaching because every day is a new adventure and every child can always teach you something new about yourself or how to see the world." Kelly enjoys baking, reading, exercising and spending time with her family.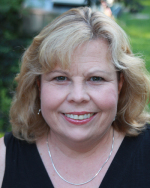 Jennie Kroeger is starting her seventh year at St. Andrew's, working with Kelly Nyman in the Lion class. Before coming to St Andrew's, she taught at Carousel Learning Center in Blacksburg, Virginia as a head teacher with 3 and 4 year olds. She also spent about 10 years working in the private industry, primarily for publishing firms. Jennie was born in Saigon, Vietnam and grew up in Southeast Asia, as her father worked in foreign service. She graduated from Radford University with a Bachelor's degree in Child Development. Jennie and her husband have two daughters. She enjoys scrapbooking and going to the beach.

Tami Phillips is returning for her sixth year as the Discovery Room Teacher, and she has been a school parent, board member, and substitute teacher. Tami began her teaching career in Miami, where she was an elementary teacher for fifteen years. Tami earned a master's degree in Reading from Barry University in Miami, Florida and was an adjunct professor. She and her husband have two children, both alumni of the preschool. Tami says that preschool science "is not only exciting but necessary…discovering, inquiring, and experimenting develops life-long learners."

Amy McCurdy
is returning for her fourth year as the General Music Teacher at St. Andrew's Preschool. She has a degree in Music Education from Shenandoah University, located in Winchester, VA, and she has been teaching music in the DC area for 18 years, both in the public and private school systems. Amy also owns and operates Clariphone Studios, LLC, which offers private instrumental instruction for all ages. This year, Amy is looking forward to exposing the students at St. Andrew's to music movement, different instrumental families, and contrasting genres of music.

Robyn Toppall is returning for her fifth year as the administrative assistant for the preschool. A native of Orlando, Florida, she came to Washington, D.C. for school and received a BA in Communications from Mount Vernon College. Robyn began her career in advertising, working in both an ad agency and the client side for an internet company. Robyn and her husband have two children. She enjoys reading, going to the movies, and taking long walks early in the morning. Feel free to stop by the preschool office and say hi!
Jeanne Jones is the Director of St. Andrew's Episcopal Preschool. She earned a Bachelor of Science degree in early childhood/elementary education from the University of Vermont and attended graduate school at Wheelock College. Jeanne has extensive hands on experience working with young children, including serving as director of the Peabody Terrace Children's Center (a Harvard affiliated childcare center), and also with the start up and managing several child care centers for employees of the federal government. Jeanne served as a lead teacher at St. Andrew's Preschool for eight years before she became its director in December 2010. Jeanne and her husband have three children, one a preschool alumnae who is entering her senior year of high school.  Jeanne and her family are active parishioners of St. Andrew's. You can reach Jeanne in the preschool office at (703) 455-8458.
Tim Price joined our staff as Facilities Manager in March of 2016 and brings to our staff experience in commercial property maintenance, primarily as an owner. He wants to take care of what is valuable to others.  Tim and his family live in the St. Andrew's neighborhood and he is most happy to take care of this "second" home to so many.  He was raised in the Episcopal Church and is intrigued to see if his personality and interests would be a good fit for our campus needs and church.